Sale price
$59.97 USD
Regular price
Unit price
per
Sale
Sold out
Our Best Way to Survive and Thrive: Membership
As a member of The Ready Network, not only will you be given exclusive opportunities to receive things that our regular Membership account doesn't include.

The Ready Network members get things like:
A Free Light Defender Tactical Laser
Free books and informational guides
Free deliveries of valuable survival gear completely for $0.00
And a number of other benefits that will help keep you safe and prepared.
Best of all is you get instant access to everything
--
Benefit #1 - Unlimited VIP Survival Consulting


$99 An Hour

 

- FREE!

We know that there's a lot of conflicting preparedness information out there, which makes it hard to create your own survival plan. This is why as a member of The Ready Network, you'll get VIP consulting from one of the leaders in all things survival… Mr. Joe Marshall of FreePatriotGear.com. As a member of The Ready Network, you'll be given a hotline direct to Joe so he can help you custom tailor a survival plan for you and your needs. Joe normally charges $99 an hour for this service, but you get his services for Free when you become a member of The Ready Network. Anytime you have a question about how to prepare for the worst you'll have a chance to get Joe's advice and he'll help you formulate a preparedness plan that works for your exact situation. Here's a little bit of what this

 

Unlimited Survival Consulting

 

includes:
Direct phone, or video call access to Joe for survival consulting
Custom-plans for your exact needs
Access to Joe's private library of survival material
Email support for projects
And almost anything else you may need from Joe.
Benefit #2 - Monthly Deliveries of Valuable Ebooks
$27-$47
- FREE!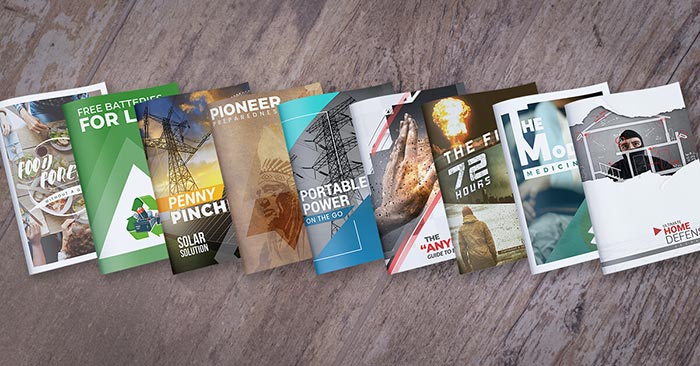 Good news, if you don't want to buy another survival book ever again, you don't have to. Mainly because we're going to give you every single survival resource in Ebook form that you could ever want.
For Free.
In the last decade, we've collected the rights to some of the top survival/financial/DIY Ebooks ever written. Instead of letting them sit on the digital bookshelf collecting dust, we send them to The Ready Network members for Free every single month. In the past 3 months we've sent out the following Ebooks
you'll be given for Free today: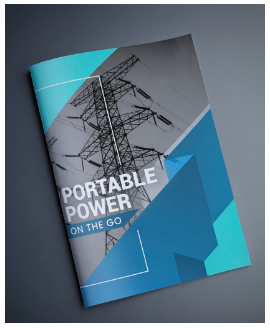 Portable Power On The Go - Gives you step by step plans to make an alternative energy machine that purifies the dirtiest water and makes it clean for drinking while also replacing the need for solar panels so you can power your entire home.
The Modern Medicine Man - 
An incredible resource of survival medicine, the Modern Medicine Man gives you 90 pages of the information you'll need to help people with serious medical concerns survive in the event SHTF and there's no doctor to be found.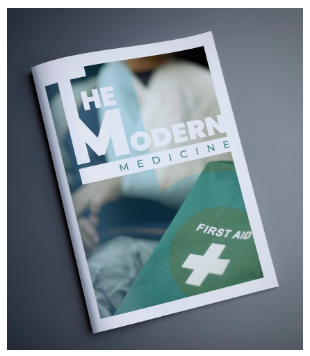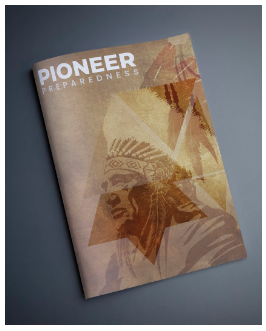 Pioneer Preparedness - To live like our ancestors did when their electricity wasn't around is unthinkable… but could easily become a reality if things go sideways. This informative book passes on 250 pages of knowledge the people who came before us used to survive the harsh landscape of the American frontier.
These 3 books retail for $88 total but we'll give them to you for Free today.
Benefit #3 - Deliveries of Free Survival Tools
$19-$39
 

- FREE
Look, when you become a member of The Ready Network, the $60 Light Defender Tactical Laser you get today is a small sampling of what you'll continue to get from us.
Whenever we get a new tool in to run on the site we set aside a few to send to The Ready Network members.
Why?
Just because. Our hope is your membership is so incredibly powerful you can't imagine living without it.
Benefit #4 - The Ready Network Platinum Membership:
$120
- FREE!
One of the coolest things about The Ready Network's normal membership is the fact we help people save anywhere from 50-70% off the retail price on name-brand gear you'd purchase at popular retail stores.
However, when you join the The Ready Network membership you're given The Ready Network Platinum Membership.
Normally $120 a year, The Ready Network Platinum Membership is yours Free today and does 2 things for you.
It gives you early-access to products before they're released to the general public.

This is HUGE for you since these products are generally the ones we have in the most-limited supply.

You get even LOWER prices on our gear than what you'd normally see…

These savings could lead to $100s, maybe even $1000s of dollars in savings for you yearly.

And like Costco or Sam's Club, these below wholesale prices mean you can even buy gear from us and resell them to create a healthy income stream of your own.



Terms and Conditions of Membership Agreement
Our Terms: By claiming these free gifts we want you to fully understand your membership will be fully paid today at the discounted price of $59.97 - with no additional shipping and handling. Your membership will be active and you get to go through everything so you can start learning all you need to get prepared. That means you can check out all our online training manuals, read all our online ebooks, watch the videos that make survival simple 100% risk-free. After you join today, the normal rate of $59.97 a month will begin being billed. From there on out your membership rate will be fixed at $59.97 and will never increase. If you decided to cancel your membership, the laser is yours to keep and you will not be billed again. To stop your valuable membership simply click here to submit a cancellation request. 

 Be Aware your credit card statement will show a charge from PATRIOTWHOLESALECLUB.

View full details